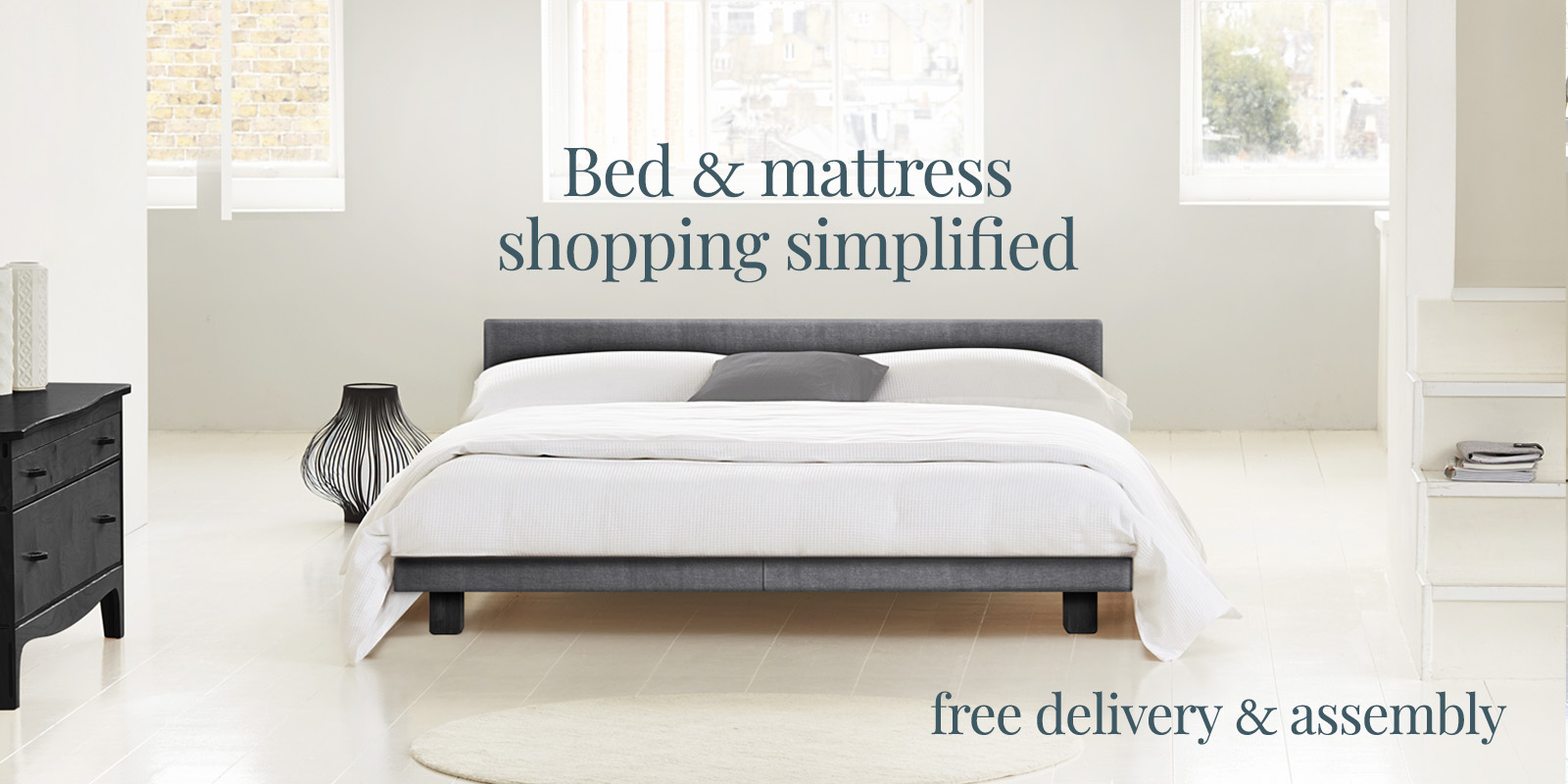 Help & Advice
Factors to consider when buying a mattress or bed
Here are 11 factors to consider when buying a mattress or bed

1. Mattress Firmness
It must always be supportive — we don't do soggy! We sell mattresses with comfortable lumbar support and beds that remain flat to fully support your mattresses. All our mattresses are double-sided, lasting twice as long as single-sided mattresses — plus they are far more comfortable year after year as they accommodate to your body shape.

If you have any questions, get in touch with our team of sleep experts. They will ask you the right questions to find the mattress that adapts to your needs. You can call 020 3927 7777, email us at [email protected] or book a video call here.

2. Price
Limited budget? Whatever the amount you spend with us, you will always receive better value for your money. The best mattresses you can buy cost a lot less from us. From our natural materials to our spring systems, we can assure you we have the right mattress for you.

3. Home trial
Shopping for a new mattress can be overwhelming — it's a big decision! Good sleep makes all the differences to our health and well-being. A free home trial is the only way you will really know if a mattress suits you. We've been offering free trials for over 17 years. It's a safe and accurate way to know that a mattress suits you. That's what we offer a 10 Week Free Trial that includes our mattresses and beds. This way you can make sure they're the right fit for you. Particularly with mattresses, it's important to give them a proper test.

4. Free returns
Ours is a money back proposition (as opposed to a forced credit towards other in-store products); complete with our "no quibbles"free return collection. A proper free trial on all our mattresses, beds, and furniture.

5. Built to last
A wholesome, well-made double-sided mattress is heavier as it-s double the number of fillers (but not that hard to turn), and certainly gives longer and higher quality support and comfort throughout its life. A mattress can't be "rolled in a box" and give lasting support. All our mattresses are sturdy and reliable, hand made and conveniently delivered into the room of your choice free of charge. They are better as they give substance that is maintained as the side of the mattress that's not in use has time to breathe and recover.

6. Natural fillers and covers
None of the sleeping layers within our mattresses include any foams (plastic), latex (rubber) or "cooling gels" (mumbo jumbo for plastic).
They do, however, contain natural mattress covers and fillers that always help you sleep better. The beauty of natural fibres is they recover their natural shape and continue to give good support if they are allowed to breathe and rest. Having dual surfaces wrapped in natural fillers also allows the mattress to maintain coolness in the summer and warmth during the winter.

7. Guarantees
Foam and latex mattresses often claim that being tested by machines is a sign of quality. The fact is, the "roller testing" is conducted without the endless hours of body heat endured by any mattress. Within two years, foam and latex mattress layers begin to crumble and lump up due to body heat. The simulated sleep roller tested mattresses have only been tested over a matter of 48 hours with rollers that do not give continuous pressure, unlike a mattress in normal use, which will receive over 24,000 hours of consistent pressure and heat from the human body.
The highly acclaimed tests that are conducted and bragged about by "award winning mattresses", only prove durability in the first short period of a mattress's life. Roller tests actually give very positive results for foam and foam highbred mattress products. Unfortunately, this masks the fact that they deliver very poor quality of support over any reasonable time and that people tend to overheat while sleeping on them.
Our quality mattress springs, fillers, and covers last much longer and deliver a much higher level of the properties required for a good night's sleeping during years, honouring the guarantees that they promise.

8. Health
Asthma, skin allergies, and toxic fungi can be worsened by foam (plastic), as it's nonporous and, therefore, traps air, perspiration, and humidity. In turn, this generates a hot and damp breeding ground for bacteria, especially as our minuscule skin scales do not travel through foams and remain trapped within this toxic breeding ground. This is bad for us and our immediate environment in so many ways.
Virtually all the mattresses made worldwide now use foam layers, but not ours! Latex, particularly "natural latex", is being heavily championed as a foam alternative but it's only minimally better than foam, reflex foam, memory foam, et cetera. Sprung and natural fillers are by far the best choice. (Please read more below.)

9. Hygiene
Natural materials like cotton and wool provide breathability, which wicks away moisture. This means your mattress will last for longer. Moreover, having a double-sided mattress will help you make the most of it by flipping every couple weeks and rotating it seasonally.

The "natural latex" that other companies offer is nothing but rubber and it's absolutely not natural. It requires many poisonous and toxic chemicals and chemical processes, delivering the same negative realities as the foam mattresses mentioned above. The myth that it's biodegradable in landfills is also nonsense. Tests have shown that latex takes over 150 years to biodegrade in landfill conditions.

10. Quality
We use only 100% cotton covers, natural fire retardants, proper quality springs, natural porous fillers, and traditional craftsmanship.
Our mattresses give years of cool, supportive, and comfortable sleep. The same applies to our sturdy beautiful beds. Built to last using solid wood and ply, the natural finishes are VOCs-safe and protected with a long-lasting quality finish.

11. Beds
Our bed frames and slats are made from 100% solid wood and solid ply that is 100% FSC approved. With 45 years of hand-making incredibly solid and durable beds that are built to last, we are very proud that they are beautiful and simply attractive, too. All the materials and workmanship in our beds and mattresses is guaranteed for years. With over 1 million products out there, we are truly the connoisseurs of quality handmade beds and mattresses.

The best part? Beds are in the 10 Week Free Trial, too! All with free delivery, assembly, and returns (to most of southern UK), saving you up to £128 compared to prices of other retailers' standard beds and mattress full service.

One-to-one video link with us into our display room for more insight into access issues, back aches, etc. here: 'Video Shop With Us'.
How to take care of your new mattress
Did I choose the right mattress?

Just like a new pair of shoes, it will take some time for your body to adjust to your new mattress. All mattresses take 2-4 weeks to break in, to open the springs and/or soften the fillers and make them as comfortable as the showroom models. If you are very light in weight, this process can take up to 6 weeks. You can assist the breaking in period by turning and/or rotating your mattress more frequently than the recommended once a month.

To help prevent damaging your mattress and invalidating your guarantee, it is strongly advised the mattress is never bent or folded for access or transport purposes. Try not to let the kids use it as a trampoline, avoid using it as a step ladder to reach something high up and sitting for prolonged periods on the edges of your mattress.

Due to the production and nature of the mattresses we sell we allow a tolerance of plus or minus 1" (2.5cm) on all mattresses on all dimensions.

Why should I rotate my mattress?

Double-sided for lasting comfort and durability, with three rows of side stitching for shape retention. This is one of the founding principles of our mattresses. Every mattress we sell is double sided. This effectively means that you are buying two mattresses of the price of one. It is undeniable that, if you always apply pressure on the same area, the wear and tear will eventually damage it faster. Our traditional double-sided design allows you to flip and rotate the sleep surface in order to spread it. This rotation also reduces the appearance of dipping while increasing the mattress's life expectancy.

To properly maintain the mattress you must flip (like a pancake) and rotate (head to toe) your mattress after the first 2 weeks of use. After that flip the mattress seasonally, and rotate every 2 weeks (bar when you were flipping your mattress). This helps to spread the wear an tear across a wider area, and make extaned its life.

Mattress covers and protectors are ideal to help keep your mattress clean and healthy. We advise you to get a washable cover we advise using a mattress protector to help keep your mattress clean and healthy.

Why does my mattress smell?

It is very common for all types of new mattress to sometimes smell a little to begin with — especially those with natural and untreated wool like our Natural 2000, Organic 5000 and Organic 6000. We notice the same when the showroom mattresses are replaced. Once the mattress is made, it is sealed in its protective plastic cover straight away which obviously does not give it time to air. This initial smell is not harmful, though we have noticed that some mattresses can smell stronger than others. In this instance, we advise airing the mattress without duvet, sheets and mattress protectors on during the day, prop the bedroom door open and leave a window open or on the catch if safe. Please do not worry, the smell can take 1-2 weeks to fade. We recommend you air it for the first 24 hours whenever possible.

How can I clean my mattress?

We advise you start by lightly hoovering your mattress. This helps remove surface fluff, dust, and dirt and also prevents all of these from penetrating deeper into the mattress. We recommend you lay the mattress flat on the floor if possible, using a tarp or something so it's not in direct contact with the floor.

You can also fill a spray bottle with half a cup of laundry detergent and a coup of warm water. Shake well so that it mixes properly and spray the solution where the stains are. Let it soak for 30-40 minutes and rinse throughly. It's really important that you let it dry properly!

If the stains don't go away, you can also fill a spray bottle with 1/4 cup of white wine vinegar and 3/4 of water. Shake the solution well and spray the stains. Let it soak for a 5 minutes or so and rub it with a warm cloth. Once clean, gently press on the mattress to remove excess water. Once again, make sure it's completely dry afterwards.

We advise you not to use too much water. The Egyptian covers as well as the cotton/wool fillers are super breathable, but a damp environment can create mould and we want to avoid this.

I'm moving my mattress. How can I make sure it's not damanged?

Do not bend your mattress! This can have an impact on the fillers and spring system, that's why we strongly discourage you from bending it. If this is a concern of yours, we do offer a Zip&Link option for our bigger mattresses to ensure it's quality and guarantee stay intact.
How to take care of your new bed
How can I avoid damaging my new bed?

To avoid a creaking bed frame and ensure a peaceful night's sleep, please make sure your bed frame (especially your head board) is not pushed up against or touching a wall when positioning your new frame in your bedroom after assembly.

Please also bear in mind that direct sunlight will inevitably have an effect on the wood's appearance, as it can discolour the stains. Part of the charm of our natural wood products is that there can be a unique variation in colour, grain and knots between each different product and their individual components.

If you have ordered one of our bed frames in a white or lighter painted finishes, please note that as the pine wood matures and darkens under the white and cream paint; the knots may start to age through the painted finish as time passes. Unfortunately, this is not something we can control; it is the woods natural aging process.

Due to the handmade nature of our products, we allow a tolerance of plus or minus 1" (2.5cm) on all products on all dimensions.

I need to disassemble my bed. How can I do it?

If you need to disassemble and re-assemble your bed frame at any point, please ensure the instructions for this procedure are adhered to, to avoid invalidating your guarantee. Instructions are available on our website and you can find them clicking here or through our Customer Service Team at [email protected]. We can assure you our frames are very simple build.

How can I clean my wood products?

Wood is a low-maintenance resistant material. Weekly dustings are important for its upkeep. Avoiding excess water is also key when cleaning and, overall maintaining, wood as good as new.

Be particularly careful when you clean wooden painted surfaces. In this case, we recommend using a light or white cloth. Some cloths can transfer the dyes to the paint.

In case of any spillages, it is key to blot away the liquid to avoid a sticky mess! If you act quick, you can simply slightly damp a lint-free or microfibre cloth with plain water and wipe away the mess immediately. The most important thing about taking care of wood is not to saturate the wood with too much water.

However, if there are any stains that require some more 'heavy duty' work, there's also a solution. There are plenty of products in the market for this special purpose. But if you want to clean your furniture with products that you may have at home, you can do so.

Add 1 tablespoon of white vinegar to 2 cups of warm water for a homemade cleaner. You can also add a squirt of liquid dish soap for extra cleaning power if needed. Always ensure you rinse the surface until almost dry.

If you want to go the extra mile, you can the following, as advised by Better Homes and Gardens:

1. To revive grimy wood furniture, mix equal parts olive oil, denaturated alcohol, gum turpentine, and strained lemon juice. Make sure you are using a lint-free or microfibre cloth that is damp, not wet.

2. Apply with a soft cloth and buff with a clean cloth.

How can I clean my easy-clean velvet products?

General maintenance: vacuum every few weeks. Also, keep velvet out of direct sunlight as much as possible. The colour may fade over time.

For general stains, try to act quickly. It's better to act before the stain sinks in. 1-2 drops of dish soap in a cup of lukewarm water. Mix it until it becomes sudsy. Soak the lint-free or microfibre cloth and blot the stain until it disappears. This works better than rubbing or dragging if the stain hasn't sunk in. If you add too much dish soap, you will end up with too much foam – the velvet will soak, and it will be soapy. Be careful with the quantity of dish soap! Do not use too much water. It is important to pat dry as much as possible. Velvet needs to be kept dry.

When brushing the velvet, particularly for our headboards and bedframes, it's better to use a downwards motion – always follow the same direction, otherwise you will see imprints on the velvet. This does not imply it is damaged, but it's just a question of making it aesthetically pleasing. It also helps to use the back of a blunt knife to "comb" the fabric – once again, always in the same downwards motion – to make it look neat.

Quick tip: If the issue is a spill, soak up the excess liquid first with a lint-free cloth. If it is a large stain, you can use the hairdryer on the lowest heat setting to speed up the process. To avoid water marks after cleaning we advise that you dampen a colourfast cloth with boiled water from a kettle and gently wipe the entire panel or cushion from seam to seam. This will help to prevent any water stains as the fabric dries.

Vacuum your headboard (if buttoned) when you clean. Once a fortnight should be fine. If you have pets or you are a smoker, a good way to eliminate the odour is putting 50/50 water and vinegar in a spray bottle, shake it thoroughly and spray lightly. Allow to airdry. Always make sure the velvet doesn't soak.

Steaming also works. Start at one corner and move the steamer along the fabric in a slow steady motion. Make sure not to hold the steamer in one stop for more than a few seconds. After you steam, use a stiff lint brush to brush the fibres down as they soften.

How can I clean my Belgian linen products?

If the stain is dry, make sure to gently scrape it (i.e., mud). Do not rub! Use 1-2 drops of dish soap in a cup of lukewarm/cold water depending on the type of stain. Mild soap or detergent works too. Mix it until it becomes sudsy. Take a light-coloured lint-free or microfibre cloth and make it damp (not wet!) to blot the stain until it disappears. You can gently rub it side to side if you need to. Make sure to do this very gently, otherwise you will end up pushing the stain further into the fabric. Ideally, you want to transfer the dirt to the cloth instead. Bear in mind that linen becomes softer and more absorbent over time.

If it's an old stain, vinegar and baking soda can help. Mix ½ of vinegar with 2 cups of water and gently rub the stain to get it out. Let it sit for a couple minutes before. This way the vinegar can "pull" the stain.

How can I clean my soft jeans cotton products?

Sprinkle a thin layer of baking soda over the stain and let it sit for a few seconds. Wet a clean rag with water and gently rub it over the baking soda to make a paste. This way you can scrub away the stains. After rubbing it, leave the baking soda paste on the couch to dry and vacuum it up the remainder once completely dry.
Observer Ethical Awards Presented by Lucy Siegle & Colin Firth
David Attenborough Lifetime achievement award
Warren Evans Best ethical retailer
9,000+ Trustpilot reviews
Google rated 4.9 out of 5
"Excellent beds & mattresses, service and delivery."
"All the staff were most helpful and the quality of the beds is excellent."
"Wonderful customer service to help us find the right bed for our mattress."
...a perfect sleep for everyone
Enter your email address to get updates