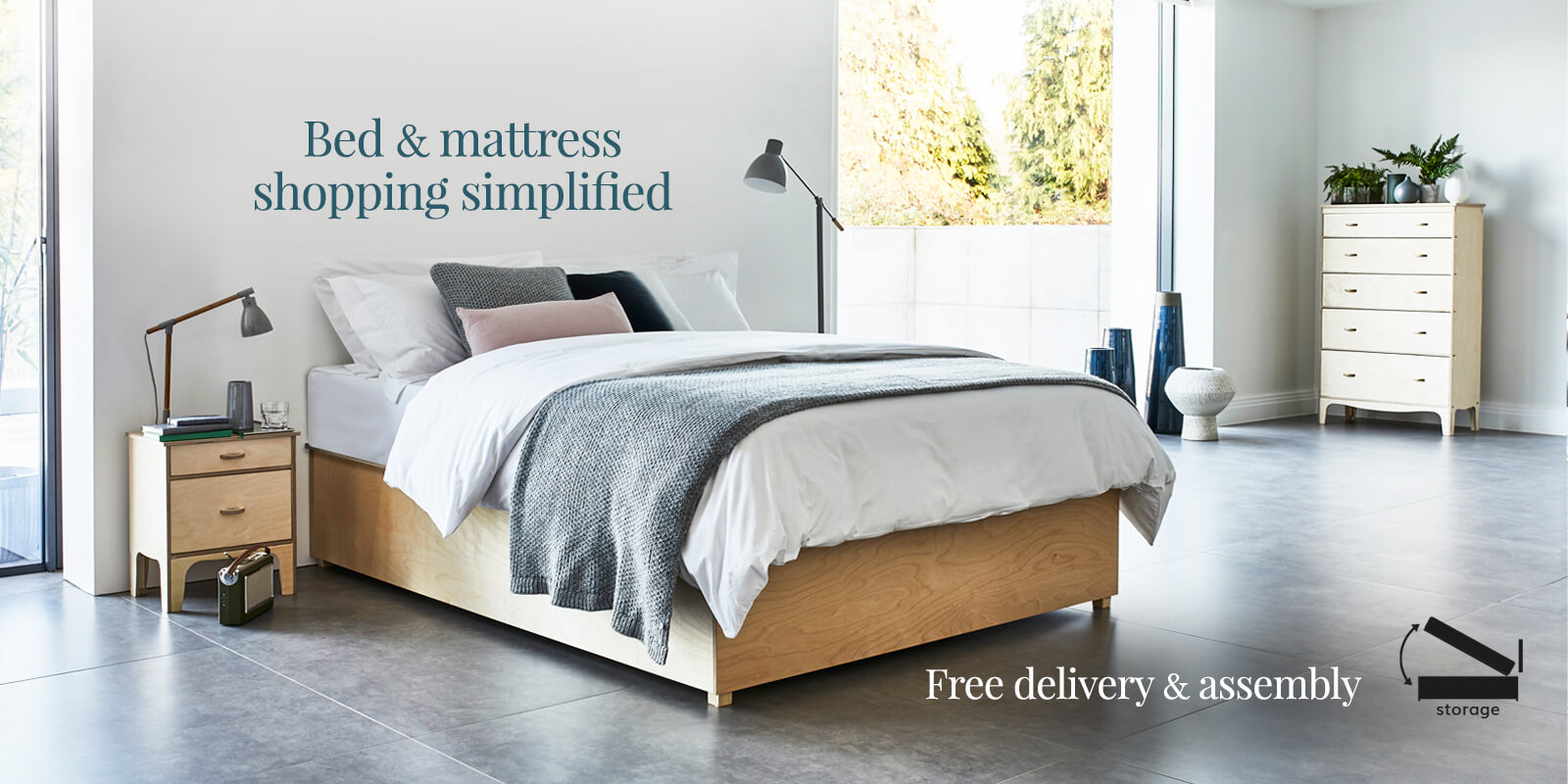 Frequently Asked Questions
40 Day Trial
How does the 40+40 sleep trial work?
Simply try one of our mattresses 40 nights and if it isn't right for you contact us. We will then arrange for a refund or a replacement to suit your needs. Our priority is your comfort and convenience. That's quality. That's Warren Evans.
You can find full details by going to our delivery, free returns and mattress trial section.
Do I have to pay for the return?
Your return is priced the same way our deliveries are. The return is completely free Monday to Friday. Saturday, and timed weekday collections, if available, are subject to a small fee.
How long does it take to receive my refund if I return my mattress in the 40+40 Night Sleep Trial?
Refunds are processed automatically back to the same card you used to make your purchase. We initiate your refunds once the mattress has been collected and inspected, and it takes between 5 to 10 business days for funds to appear on your statement.
Delivery
Any problems during my delivery today?
Contact Warren Evans immediately on 020 3927 7777. We take your satisfaction very seriously and we know how stressful a failed delivery can be, so just give us a call. We have a trained advisor ready and waiting to assist you when you need it.
Which courier do you use for mattress delivery?
We use BJS Home Delivery (BJS). They specialise in high-end mattress delivery services and have excellent credentials. Don't take our word for it, check out their trust pilot reviews and rating! https://uk.trustpilot.com/review/bjshomedelivery.com
Which courier do you use for protectors and toppers delivery?
We use Hermes to deliver smaller items to your door.
Do I pay for delivery?
Deliveries between Monday and Friday are completely free! We charge a small fee for our timed delivery service Monday through Friday and a Saturday delivery service.
Can I choose a specific delivery date?
Absolutely! We know how busy your life is and how important your plans are. Our website is designed to clearly highlight how quickly we can deliver your mattress, and you can select a guaranteed delivery date during checkout.
Do I need to wait in all day?
You need to be available between 7:30am and 9pm but our delivery partenr will narrow it down with an unnegotiable 3 hour window on the evening before delivery.
Can I choose a specific delivery time?
Yes! We know that a day off work is valuable to you and sometimes you can't be in all day during the week. In most of our delivery areas you can select an AM, PM or evening option. Just check out our delivery section and search by your post code to find out all available options then confirm during checkout.
Can I change my delivery date?
Yes. You can change your delivery date with ease up to 2 weekdays before delivery. Sustainability is a key consideration at Warren Evans so we work closely with our delivery partner to plan efficiently around each and every customer to reduce our carbon footprint. Changes within 48 hours of delivery impact this careful planning process and lead to energy waste and unnecessary pollution.
When do I find out my timeslot?
Our delivery partner will send you an email and/or a text with a fixed 3-hour delivery timeslot between 4 and 7pm on the evening before your delivery.
Can I change my timeslot ?
No. Your 3-hour timeslot it is fixed and can't be changed. Same goes for the premium timed delivery. Please make sure you are flexible on the day of delivery or purchase a premium timed delivery during check out.
Our delivery partner plans your delivery slot based on your relative location, size of order and other deliveries on the same van. The software they employ optimizes fuel efficiency and time, in order to reduce energy waste and pollution. It is this optimization and efficiency of scale that allow us to offer your delivery for free without inflating the cost of your mattress. It is also a green and a sustainable practice.
Will the courier call me on the day of delivery?
Yes. We know have important communication is to ensure a successful delivery. Our delivery partners will call you on the day of your delivery between 30 to 60 minutes before delivery and discuss specific requirements that you might have. They use GPS to navigate as well as track their vans, so they are able to give reasonably accurate estimates of arrival when they are nearby, and you can view their progress via their tracking page (link available on all their communications with you).
Do I need to be home for the day of delivery?
We need a signature from you or an adult over the age of 18 to complete the delivery into your home. Our delivery partner will help to inspect the products and make sure that you are happy with it and their service before they leave.
Can you leave the items outside my home?
No we can only leave the items at your home after a resonsible adult signs for delivery.
Do I need to keep the packaging?
Yes. Our delivery partners will unwrap your nominated Trial mattress and leave all packaging to be reused should you decide to return the mattress as part of our Trial. At Warren Evans sustainability is a core value. We first try to reuse materials and packaging, and only when that is not possible, we recycle them.
What happens if I missed my delivery?
You get a second-attempt delivery which can be moved up to 2 weekdays before delivery. There will be no charge for a successful second-attempt delivery. However, if you miss a delivery for a second time, we reserve the right to cancel the order and deduct reasonable costs from your refund to cover the costs of unnecessary handling, fuel and environmental impact. It's important for us to exercise discretion and provide good service while keeping in mind the environmental impact of our business. See our Terms for details.
Returns & Refunds
Can I exchange the mattress?
Absolutely! You can exchange your mattress under the 40+40 night sleep trial. Simply contact us within 40 days of your delivery and we will work with you to understand what the best alternative is to improve your sleep. You can find full details by going to our delivery returns and mattress trial section.
What is the returns process?
Warren Evans is widely known for its simple, honest and transparent returns. Simply contact us via my account section on our website within 40 days of your delivery to set up a convenient date for a collection. As we insist on sustainable practives we ask that you reuse the original plastic bags and wrap the mattress for our delivery partner to collect. We are happy to work with you to make sure the collection date coincides with a replacement as best as possible to minimize the impact on you. Once we collect your mattress, we will issue a refund.
You can find full details by going to our delivery returns and mattress trial section.
Do I have to pay for the return?
Your return is priced the same way our deliveries are. The return is completely free Monday to Friday. Saturday collections and timed collections are subject to same fees as our delivery services.
How do I prepare my mattress for collection?
At Warren Evans we always think sustainability first, and for that reason we ask that you place the mattress back in the original packaging and seal it with a little tape ahead of the collection time. Our delivery partners will arrive promptly and take the mattress away. We ask that you take care of it during your trial because if it is not stained, soiled or damaged, the mattress can be donated to good causes. Otherwise, it has to be recycled.
Please kindly make sure that access do your bedroom is clear, so our delivery partners can quickly and safely get the mattress out.
Mattress removal and recycle
Can you take away my old mattress?
We do provide an environmental disposal service for unwanted mattresses. Please purchase this for £38 at check out and our courier will make sure the items they take away are responsibly recycled and only those materials that cannot be recycled go to landfill. Please ensure you purchase this at point of purchase, as it is not always possible to include it with your delivery later on.
Help and Advice
Narrow staircase. Will my mattresses fit up the stairs? What is a Zip and Link?
Narrow staircase? Had trouble delivering large items in the past? Don't despair! You definitely don't need to settle for a flimsy mattress in a box. We take pride in our craft and have been delivering mattresses for a very long time. We use a specialist company that specializes in two-man delivery to your room of choice. Their trained team will walk through your house to ensure it's all safe to proceed without damaging your house.
If you ordered a super king size mattress and you still have some doubts about access, give us a call on 020 3927 7777 and let us ease your mind. Our trained team will ask relevant questions and provide practical advice on getting the mattress to where it needs to be.
Where access is so severely affected (loft bedrooms, spiral stair cases, etc) you may choose to have your super king size mattress delivered as a Zip & Link. This bespoke solution has many advantages and will most certainly fit where a full-size mattress failed. This may be particularly important for customers buying mattresses containing higher spring counts as they are progressively thicker and heavier.
It's worth pointing out that Zip & Link mattresses can be easier to maintain in the long term, and as a result can often last longer than their full-size cousins. They are also much easier to move without specialist assistance if you plan on relocating in the near future.
How often should I change my mattress?
Asking this question is akin to asking how often one should change their car. The time to change a mattress is when it's no longer comfortable. Whether this is due to a change in your lifestyle; physiological changes in your body, medical conditions or injuries; hygiene and accidental damage; or if you can invest more into your sleep and want an upgrade, you will know exactly when it is time to replace it. Plain and simple.
How do I make my mattress last longer?
By investing in a better mattress and following the simple advice below you will sleep better for longer, get more value from your mattress, and reduce your carbon footprint by saving the environment from unnecessary waste.
Invest in the best mattress you can buy at the time. You can't spend what you don't have, but a mattress is something you should invest in like as it will significantly impact you day to day well-being.
Always purchase a mattress protector (or two) to mitigate most of the accidental wear and tear and promote better hygiene. It's great to have a spare for when you need to wash one, you can instantly protect your mattress with the other.
Consider a mattress topper. These are great at the beginning of the mattress lifecycle as they mitigate a lot of wear and tear, and any possible issues with uneven settlement of fillers inside the mattress itself as it is bedding in.
Always adhere to the manufacturer's mattress maintenance instructions, and if there isn't any, use common sense. You can flip and rotate a double-sided mattress periodically to significantly extend its lifespan.
Are your products sustainable and do you recycle?
Recycling waste is very important, but it is not a true solution to our planet's environmental crisis; it's more of a crutch. Equally, substituting plastics with biodegradable plant-based materials is not sustainable as it diverts from food production and with our massively growing world population, you don't want to make a decision between a disposable paper cup and dinner. Building good products that last and then re-using them is currently our simplest and best way forward. As an ethical manufacturer we founded our business on this philosophy and continually work with our suppliers and distribution network to ensure we all exercise our corporate and social responsibility. For example, our supplier of Egyptian cotton fabric is extremely environmentally friendly in their production process. We build mattresses that last longer and use efficient planning to avoid waste. Mattresses that come back as part of the trial and are in good condition can also be donated to the needy to help give back to the community. Our delivery routes are planned very carefully by our delivery partner and built to ensure as little energy loss and pollution as possible. Goods are all made here in the UK and most all of our fillers are supplied locally, which means they are produced to the highest ethical standards. We use recycled products wherever possible within the mattress, i.e. the steel spring units, polyester pad in our entry level mattresses, and we reuse any recycling plastic any packaging that comes our way. As a last resort, we recycle what's left using responsible service providers.
Overheating at night?
If you can get your hands on a mattress using wool fillers, it will greatly improve your sleep. Wool is a fantastic material for regulating body temperature. If changing your mattress is not an option, make sure you are using a wool topper and cotton sheets. Also look into the tog count on your duvet. Use a lighter summer duvet if you get too hot and switch with seasons as needed. Aside from using appropriate breathable materials for your bedding, try not to eat for a couple hours before going to sleep, make sure you hydrate more during the day, open the window or consider using a fan.
Looking for an old Warren Evans Mattress design?
Check out the help and advice section.
...a perfect sleep for everyone
British

Direct

Independent

Simple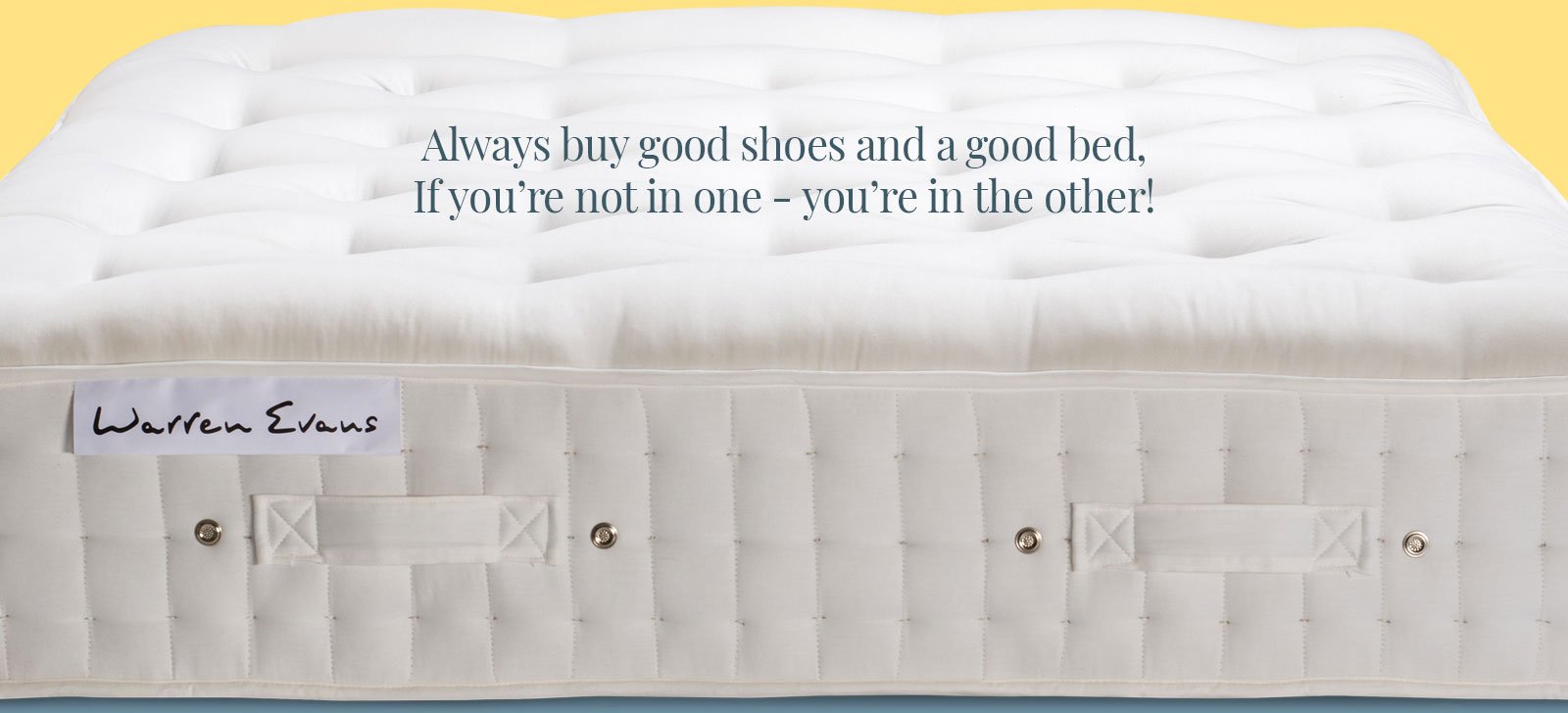 Sign up for sleep tips, offers and more