I was tired out

I'm having hot flashes

I had poor sleep

– like so many people
for these reasons, I've always had a naturally filled sprung mattress, but I wanted to design a mattress that would allow air to be pushed into it from a fan layer underneath, so I designed these...
air cooled mattress
this single sided air cooled mattress is 23cm deep and easy to rotate. It is engineered to welcome air from underneath via the 5cm deep 'air shelf'supplied.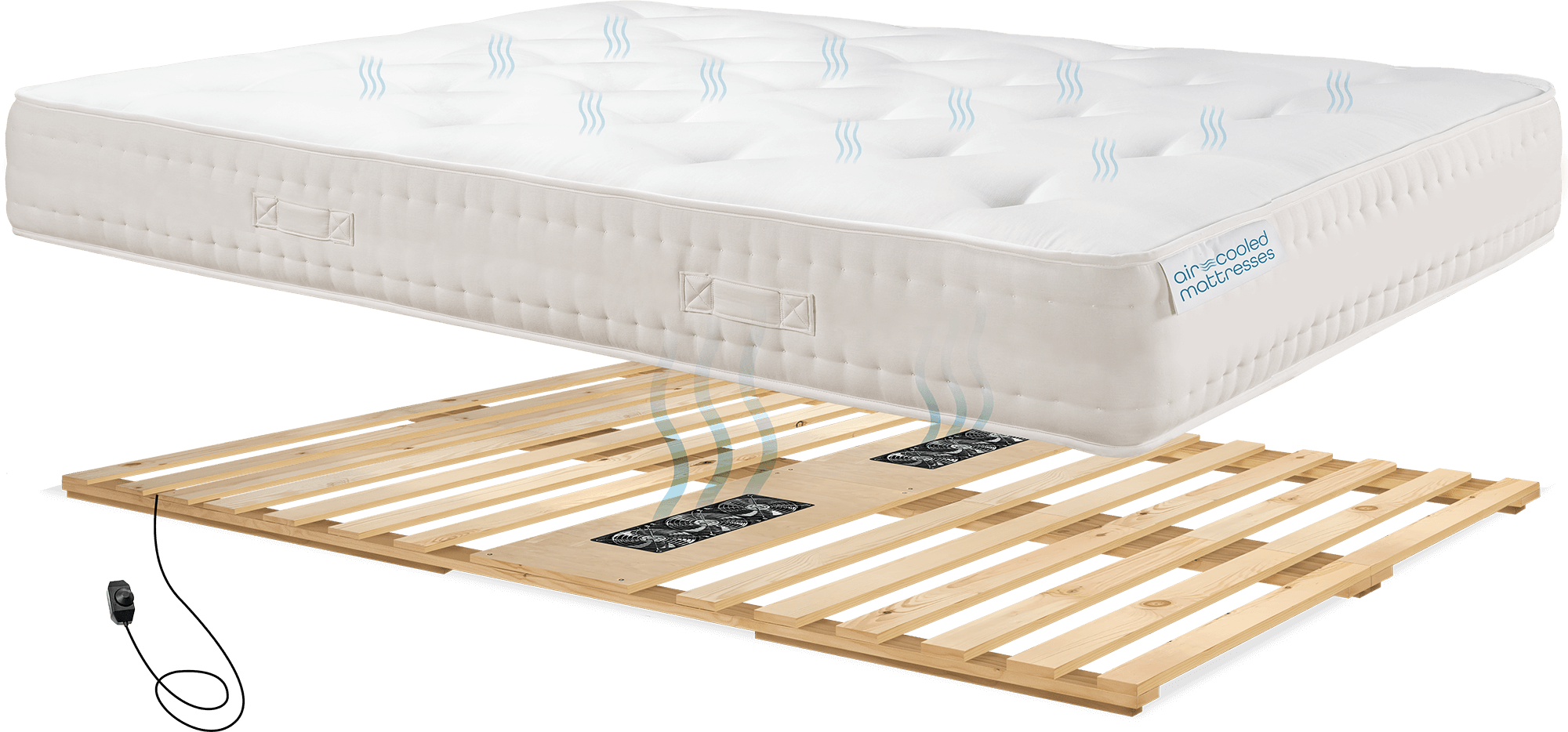 air shelf
the air shelf is virtually unnoticeable in day-to-day life as it's made slightly shorter & narrower than the mattress above it. This also makes putting on fitted sheets much easier. complete with a low energy plug, a 3m lead and a air controller for each side of the bed.

sits on any bed – no alterations
the air cooled mattress and shelf are supplied in ready to use sections that lay straight on top of or into your current bed frame. these are fully compatible with curved slats, straight slats or solid top 'divan' beds (please consult us for use on 'ottoman' beds). once in place, the shelf stays put, only the mattress needs rotating from time-to-time.
cool for you
The air cooled mattress system brings a big increase in the quality of anyone's sleep
the power to 'cool start' your sleep
the air circulates throughout the natural coconut fibres and organic wool layers, which keeps it fresher day-to-day and lasts many years longer
allows your body to regulate its own temperature naturally
organic wool, combined with the air-flow shelf, are essential to optimising the evaporation process
...great for a fresher, deeper nights sleep
11 pence
the cost per night to power the air cooled mattress
cool for the environment
the air shelf and its fans are engineered for efficiency, i.e. if you cooled the mattress for an hour, slept on it for 8 and then aired it out for another hour whilst you begin your day, it would use only 0.2 kW of electricity. at 28 pence per kW, it's under 11 pence a night. based on october 2022 energy prices
increased hygiene and health, by eliminating harmful mould caused by dampness found in all mattresses
top quality whisper-silent fans built to last for 10+ years of normal use
the air shelf uses natural FSC wood
good air circulation allows the mattress to dry thoroughly night after night, maintaining the natural quality fillers in low humidity.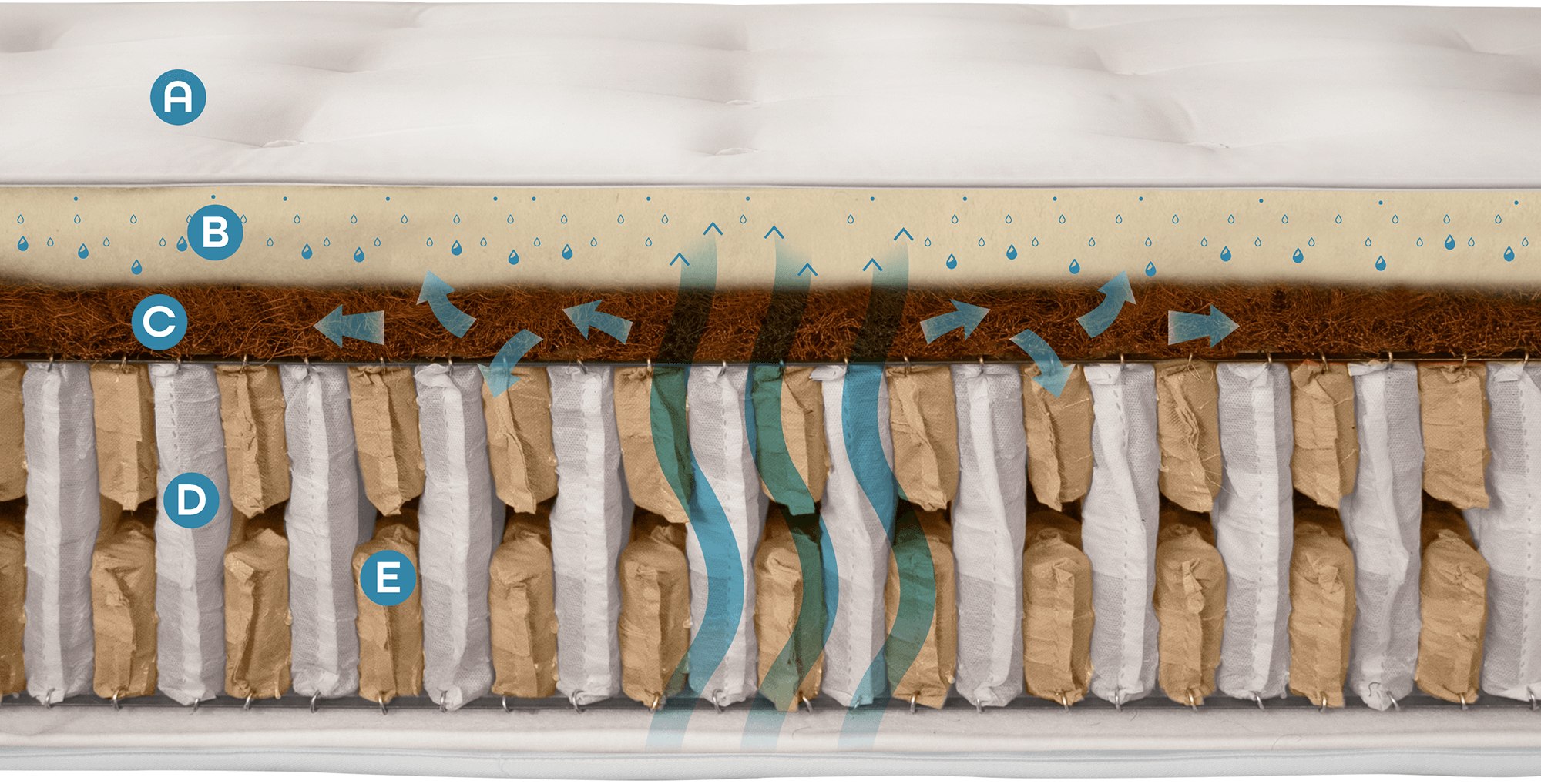 looking forward
the people who have the air cooled mattresses love them. most were reluctant to introduce the idea of small fans pushing air, but they are converted advocates!

I observed that we often misunderstand our bodies needs, and I've used these insights to develop the air cooled mattress system.

what often makes us feel hot, stuffy and sick during the night are toxins being unable to be released from our bodies as our mattresses remain far too hot, wet and humid.

we think we want to sleep on 15°c temperature mattresses to keep cool, but in fact we cannot possibly sleep on anything colder than 28°c.

our body is amazing at controlling our temperature. in order to do this it is essential that we;

sleep on a dry surface that is thoroughly aerated

need a 30°c micro-climate around us, which is why we need blankets/duvets

we can then have perfect sleep as we unconsciously control covering or uncovering ourselves and sweat or snuggle-in to regulate temperature.
better sleep – better life
Observer Ethical Awards Presented by Lucy Siegle & Colin Firth
David Attenborough Lifetime achievement award
Warren Evans Best ethical retailer
9,000+ Trustpilot reviews
Google rated 4.9 out of 5
"Excellent beds & mattresses, service and delivery."
"All the staff were most helpful and the quality of the beds is excellent."
"Wonderful customer service to help us find the right bed for our mattress."
...a perfect sleep for everyone
Enter your email address to get updates